---
Personalized Veteran plates are available as passenger, truck or motorcycle plates.
Personalized Vet plates come in two categories. First, there are Veteran plates for a particular branch of service, bearing the standard emblems of the Army, Navy, Air Force, etc:


Second, there are Unit Designator plates, showing designators for particular military units. Here are the first few emblems I saw on the road (there are now many more)r: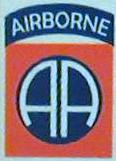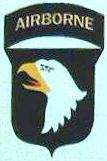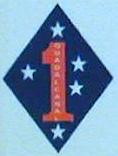 According to the Alaska DMV, from their page about veteran plates:
"In addition to the following plates, Unit Designator Personalized Veteran Plates are also available. Contact George Gaguzis at 907-269-5559 for further information on Unit Designator Vet Plates. A brochure showing samples of the new personalized Vet plates can be obtained at a DMV office."
The emblems available (according to the Alaska MDV Military Unit Designations page, are:

1/5 Infantry Regiment
101st Airborne
10th Mountain
11 Airborne
11th ACR
11th Air Force
160th Special Operations
168th Security Forces
172d Infantry
173rd Airborne
176 LRS
17th Cavalry Regiment
187th Reg. Combat
18th Corp
196 Infantry
1st AVN. Brigade
1st Cavalry
1st Infantry
1st Marine Div.
1st Signal Brigade
20th Eng.
20th Eng. Airborne
20th Engineers
25th Infantry
29th Infantry
29th Ordnance
2nd Armored Division
2nd Infantry
366th TFW
3rd Infantry
4/23rd Infantry
42nd (ID) Infantry
42nd Infantry
4th Infantry
4th Recon Battalion USMC
501st Geronimos
501st PIR
52nd Ord Group
5th Marine Division
60th Special Operations
6th Marine Div.
75th Ranger Scroll
7th Corp
82nd Airborne
8th Infantry Division
932nd ACW Squadron
9th Inf. Graphic
9th Infantry
ACS
AK Territorial Guard
Airborne 20th Engineers
Airforce System Command
Alaska Air Command
Alaska Air National Guard
Alaska National Guard Crest
Alaska National Guard Patch
Fleet Anti-Terrorism Management Team (FAST)
Navy Seals
PBR 539th
PBR 593
Pathfinder
Ranger
Sea Bees
SeaBee Graphic
Special Forces
US Army Republic of Vietnam
USAF Pararescue
USAR AK Bear
USARV
USMC 4th Recon Battalion
USS Abraham Lincoln
VFW 214 Black Sheep

The plates can be requested online or by filling out Alaska DMV Form 803.

Here are some actual plates I've seen. It used to be that vanities could not be requested using an 'AAA999' serial, such that the VAR101 plate below would not have been allowed, to potential collisions with other plates like other Veteran plates, but this rule was later relaxed.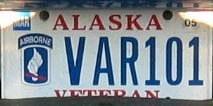 Would you like your plate displayed here? Send me a photo!
---
About | Disclaimer | Contact | My home page | My blog | Roycelinks
Copyright ©1998-2018 Royce Williams.
Last updated 2018-05-26