---
Passenger vehicles (X series - City Government)
These plates seem to be issued to city government vehicles that do not fall into other categories: People Mover buses, city police, utility trucks owned by municipalities, etc.
The current XX- series begins with XXG.





Missing: [XXH], [XXK], [XXR], [XXw], [XXZ]
---
Alaska State Troopers
I suspect that the reason that the AST on these plates is suffixed rather than prefixed is to avoid a collision with AST-prefixed plates from the '76-'77 bear-plate run.
Special thanks to the Alaska State Troopers in Palmer for letting me take these pictures.
Norm Ratcliff (ALPCA #3677) has a great page about the history of Alaska State Trooper plates.
---
Fish & Wildlife Protection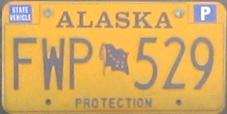 Thanks to the Fish & Wildlife Protection office in Palmer for putting up with me (briefly) while I took these pictures.
Missing: [FWP] (suffix)
---
Legislators' vehicles
Plate #1 is the Governor's, Plate #2 is the Lieutenant Governor's. For earlier eras that did not make the distinction between State House and State Snate, numbers 3 through 63 were assigned to the State Legislators (40 Senate and 20 House), apparently assigned by seniority rather than by a legislator number or district number.
I have seen a couple of the Centennial plates with the prefix LEG and a two-digit number (sometimes centered, sometimes not):
I originally thought that people couldn't get a personalized plate with a number lower than 63 on it, but I've since seen multiple examples. I have seen some personalized plates with such numbers that were on legislators' cars, though - so I'm not sure what the rules about that.
Later-era plates explicitly have "State House" or "State Senate" on them, and the numbers overlap. I have seen them the Centennial, fully-embossed, and 50th Anniversary of Statehood plates on the road.
Here are some later, real State House and State Senate plates - limited solely to photos of plates taken on the road in Alaska:

They are also on the 2015 Bear base. I have not seen any on the road, but there was an article in the ADN with State Representative Scott Kawasaki holding his plate.

Be aware! There are multiple variations of reproductions, most notably on the Centennial base. Some of the reproductions have printed-on, thinner-font numbers. Others have an all-white border, the wrong font and size of text on the left, or bear well-known fake stickers with the number 'L522178' and years '02' or '05'. But note also that some real plates also have a white border.
Also note that in the Alaskan government, there are only 20 State Senate and 40 State House members. Plates with numbers higher than this are reproductions. Thanks to Bryce Crumb for pointing this out. Note, however, that there are also reproductions that are within these number ranges, so be careful.
Reproductions and boosters (not issued to senators/representatives for the purpose of putting on their car for driving in the State of Alaska):

It is legal for a state legislator to display legislator plates on more than one vehicle. Dirk Starck reports that he's seen them range from three to five pairs.
From AS 28.10.181:
(f) Vehicles owned by elected state officials. The department shall issue special registration plates to each incumbent elected state official for display on noncommercial motor vehicles owned and driven by the official. The department shall number or design the plates so that registration by an elected state official is indicated upon the plates. The registration plates issued under this subsection remain with the owner of the vehicle only during the official's term of office.
---
State of Alaska vehicles
I have seen plates as high as 99---, but don't have any examples yet.
---
There are also some U.S. Government and related plates.
---
About | Disclaimer | Contact | My home page | My blog | Roycelinks
Copyright ©1998-2018 Royce Williams.
Last updated 2015-08-20